30-Days Money-Back Guarantee
30-Days Money-Back Guarantee
Smart
Fingerprint

Door Lock In India

The idea of a smart home is being introduced to more families in tandem with the advancement of smart technologies. More families also prefer smart fingerprint door lock as their home locks due to the high level of security and contemporary design. The Fingerprint Smart Door Lock in India or smart fingerprint door lock instantly activates the anti-theft alarm feature if the burglar tries to enter using a phone fingerprint to open the door.

A lot has been changed since the traditional old lock and key era. Do you still recall the sinking feeling in your chest when you realized you had lost the keys or left them inside? While there was a little you could do at the time, you now have the opportunity to take action. Biometric identification is used by fingerprint-based door lock systems to simplify our lives. Apart from the fact that they appear super great, they also operate neatly.

Request Callback
Let's
Connect

with Us!!

Fill the form below with your details and we will reach out to you.
Do you, however, fully comprehend what a fingerprint door lock is? And how can you pick the right smart fingerprint door lock In India? Delta Home is here to assist you in selecting a suitable smart fingerprint door lock In India? for your home.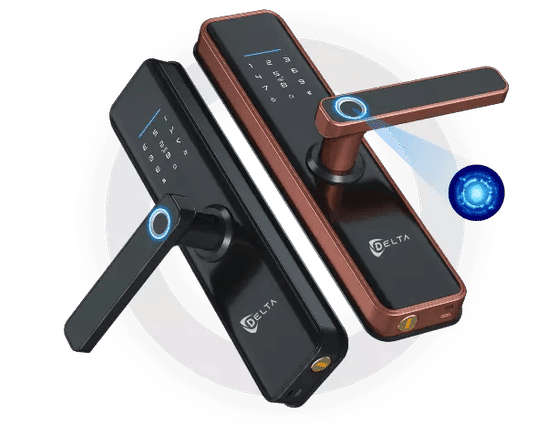 What Is A Smart Fingerprint Door Lock?
The smart fingerprint door lock can detect security identification and certification by using human biometric fingerprints. A best smart door lock fingerprint is a complete new generation of access control systems that meet contemporary security needs and have raced into the wish lists of contemporary families.
It is based on high-tech digital image processing, biometrics, and DSP algorithms. Together with other contemporary technologies, such as RF card keys, Pin codes, and others, it can improve the home's level of security.
Smart fingerprint door locks are the security of the future! It's a terrific option if you want to increase your home's security while reducing the burden of maintaining keys. Fingerprint smart door locks In India are those types of locks that scan your fingerprint using smart biometric door lock technology to unlock the door.
Delta Homes' new smart fingerprint door lock includes cutting-edge technology that is not only incredibly practical but also quite intelligent.
Is It Safe To Use A Smart Fingerprint Door Lock?
For your house, office, and various other applications, a fingerprint smart door lock In India can offer enhanced security just like any other regular smart lock.
The fingerprint door lock is an easy to understand system or term. It is a technology that recognises fingerprints to allow admission into the room. One of the best and most widely used biometric systems are fingerprint door locks.
Human fingerprints are extremely detailed, one of a kind, and difficult to alter or fabricate. Because each fingerprint is distinct, the fingerprint smart door lock system is very secure. Of course, you won't forget your fingerprints compared to a set of actual keys.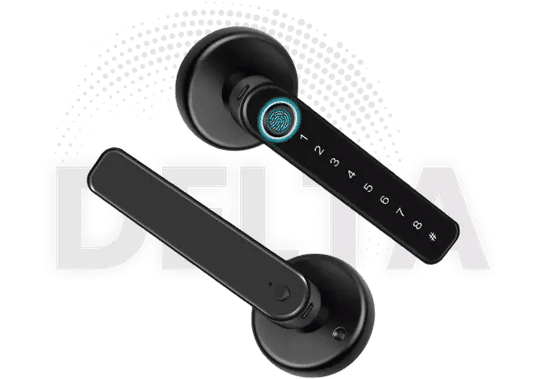 The Benefits Of
Using A Biometri Smart Door Lock
Let's face it. Life is hectic on a daily basis. There isn't much time left over after juggling the demands of parents' jobs, children's homework, and numerous appointments to look for misplaced keys. You may have considered installing smart locks on your home if you've ever had to call your partner at work to bring home a spare key.
Provide you with a more comfortable experience
Physical keys are easily stolen or misplaced, so you no longer have to worry about leaving your keys at home when you go. For every homeowner, safely storing their keys is a given. For people who frequently lose their keys, smart fingerprint door lock In India are appropriate.
Lessen the chances of an invasion & ensure your safety
Both sharing and losing fingerprints are very difficult. The risk of break-ins is decreased by employing a smart fingerprint door lock, which is a common smart biometric fingerprint door lock with an alert feature.
Modern and simple to use system
All that is required to run these locks is a thumb-sized scanner, and the majority of entry door lock suppliers support a variety of shapes and sizes to match any type of door. The smart door lock biometric system has no sophisticated mechanisms, and these locks are easy to operate.
Suitable for future upkeep
It will end up being less expensive in the long term. Rust, wear, and tear are common problems with regular locks and keys. Smart door lock with fingerprint are less likely to be damaged than other popular types of locks, which can help you save a significant amount of money.
Appealing contemporary architecture
The best smart door lock fingerprint are offered in a variety of styles to suit your various needs. When a guest visits your house or place of work, smart door lock fingerprint with a contemporary design can leave a lasting impression.
Aesthetics
The presence of a fingerprint smart door lock enhances the aesthetic appeal of the building. It quickly incites fear and gives out a warning signal to anybody who might consider breaking in. There is no reason why we shouldn't lead the way as well, given how quickly technology is developing. The smart fingerprint door lock will undoubtedly achieve the goal of preserving the sanctity of our homes and workplaces, which is of the utmost importance.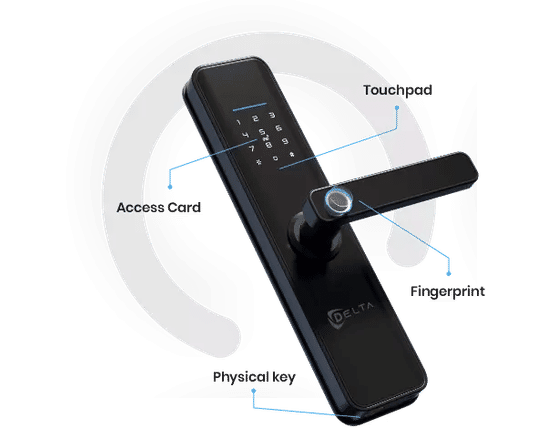 Other Types Of Smart Locks
Despite what many people think, not all smart locks use biometrics. Therefore, bear in mind that you might not always be able to unlock a smart lock with your fingerprint if you're considering purchasing one.
Based on their locking and unlocking mechanisms there are three other types of smart locks:
Locks with keypads require a code to open.
A smart app can open a wifi fingerprint smart door lock.
Remote key fob locks that detect a wireless key fob that you carry about with you and automatically unlock themselves.
Control from any location
Using your smartphone, you may lock & unlock your door from any location
Logs & Alerts in Real-Time
Receive a notification each time someone unlocks or opens your door
Using Offline Access Code
Give your visitors your Offline or One-time Access code
Smart Features For Smarter Living
Voice Guidance For Conveninent Access
Use Emergency
Battery Jumpstart
Easy Set-Up Via
Mobile App
Installation is free

3 years of replacement
coverage

30-day policy for
refunds

24/7 Support
FAQ's
We Have Answered Almost All
Your Questions
Smart locks are, to put it simply, a part of access control. Although you can buy standalone smart locks to replace the deadbolts in your home, they are typically utilized as a component of an integrated access control solution. Schlage Connect locks, for instance, can connect to your home automation and alarm systems. The door unlocks, your security system is disarmed, and the lights in your foyer turn on as you input your code.
There are many solutions available for managing your locks. You can employ voice control, speech-activated mobile apps, customized access codes, or even biometric information like fingerprints or eye retinas. You can create an access control system that includes all of your preferred features by consulting a specialist.
Additionally, there are other ways to see who is at the door and let them in. You can use video phones, door stations, entrance monitors, and mobile apps. To allow you to continue moving while determining who is at the door, Seidle even provides wireless video phones.
Investing in an access control solution with audio and video will allow you to see who is at the door and speak with them. You may use the same app, entry monitor, or touchpad to let whoever is at the door in after speaking with them. Video entry monitors can be used to control all of your entry points if your property has several smart locks. For instance, comelit entry monitors make it simple to swipe the screen to see video pictures of different access points and select which you want to engage with.
There was legitimate skepticism about this technology after a research that claimed over 75% of smart locks could be compromised was published last year. However, a lot of the security concerns related to smart locks can be remedied by hiring a pro.